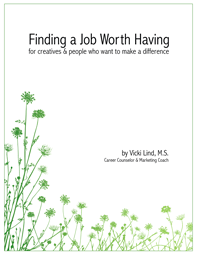 Finding a Job Worth Having, Fourth Edition
Authors: Vicki Lind, M.S. and Cynthia Dettman, J.D., M.S.W.
This 185-page handbook provides step-by-step instructions to help you find and create careers in creativity, social justice, sustainability, fundraising, health care, and government. The authors guide you to:
Assess your values, interests, and skills
Generate job titles to match
Network and research your top options
Meet new contacts and build your network
Locate job openings and craft winning resumes
Interview to convey how you will make a difference
This fourth edition, published June 2012, includes sections on using LinkedIn and other social media to build your network and research top options, and offers expanded resources, including many sample resumes and cover letters that have led to desired interviews. The handbook concludes with tools to evaluate job offers and negotiate fair compensation.
Check out the Table of Contents to see how this handbook will help you find a job that matches your values.
Purchase the print version for $17.95 plus shipping and handling:

Or download the ebook for $10.00:

Or you may arrange to pick up a copy at Vicki Lind's office at 516 SE Morrison St. Suite 202.
---
Industry Resources
---
Client Success Stories
Mac's List
Newsletters